Dubai is the largest and most populated city in the United Arab Emirates and also Dubai is well known for its ultramodern architecture and lively nightlife scene. Dubai has everything for beautiful photography. Photography is the art of making memories tangible photographs hold a good moment running away. Here in Dubai, the zest photographs are there for you to click on your beautiful portraits and make your memories tangible. Photoshooting in Dubai is very special. We are a Dubai-based photography company and professional photographer in  Dubai.
Who doesn't wish to take their beautiful portraits when they are in Dubai? Anyone can click photos using the camera but only a professional photographer can document that memory in a good way which gives you the same feeling that you had while clicking that photo and looking at it many years later. Dubai is a perfect place for beautiful photography and we know how to take beautiful portraits from those places and give you the best outputs.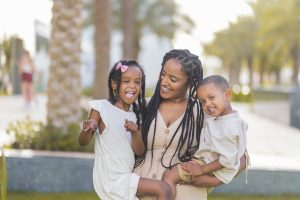 All About Us
We are the solution for all types of photography. We are the best and most experienced Dubai photographers, and our main speciality is that we do everything for you according to your budget and it will always be affordable to our customers. The type of photography that we do are,
* Maternity photoshoots in Dubai
 This is a beautiful moment in your life and you're expecting a new member to your family. We'll document this wonderful moment for you. We do the best pregnancy photoshoot in Dubai.
*Newborn photography in Dubai
All parents like to capture lovely pictures of their newborns. This will remain so long even when your baby grows up. Zest photographs do the best newborn portrait photography in Dubai. 
*Food photography in Dubai
Capturing beautiful snapshots of food is highly required for cafes and restaurants and we capture the best food photographs for cafes and restaurants. 
Events have to be captured always because they are must-haves for every business and we do it beautifully.  
*Wedding photography in Dubai
A wedding is a beautiful moment in which two souls with one heart put their hands together to begin a new life. Those moments are always great for you and we make them sweeter for you. We provide pre-wedding photoshoots in Dubai and wedding photography in Dubai.
*Product photography in Dubai
 We do product photography for companies as it is a tool for sales. This photography can be used to show your products in their best light, and it can deliver an additional level of detail that customers can't see on your website. 
*Corporate video production in Dubai
We will help you to update your brand image and company profile through corporate photography and corporate video production. 
*Industrial photography in Dubai
Every industry wants its customers to be with them and for that good quality behind-the-scenes has to be shown to their customers. Only professional photographers can capture high-quality industrial photos. We, the Zest photographs, are the best professional photographers in Dubai.
*Fashion photoshoot in Dubai 
We are the best fashion photographers in Dubai. We use the best camera equipment and editing software to create beautiful photographs. 
*Couple photography in Dubai
We are the best couple portrait photography. The good moments between you and your companion are to be captured.
Kids grow up in the blink of an eye. Capturing your kid's portraits when they are small and showing them when they grow up is something which can't be expressed.
Family portraits are always an important thing as they resemble the beautiful moments of life. Family photographs are all about love and nostalgic moments.
*Interior photography in Dubai
Interior photography is the first impression of a property and we will create outstanding photos for you. 
*Night Photoshoot in Dubai
The Dubai night with full lights is very beautiful and capturing photos in this night light is more beautiful than everything. 
*Underwater photography in Dubai
While doing underwater activities, taking a video of it always gives you a beautiful memory.
*Sports photographer in Dubai
 Only a professional photographer can capture the best sports photos and we are the best for you.
Contact us for photography and videography in Dubai, you will love our work.
Our photographic locations
Think of taking your stunning snapshot facing Burj Al Arab or from the tallest building in the world, Burj Khalifa with the sky the view will look awesome right? Not only Burj Al Arab or  Burj Khalifa there are many more beautiful photographic places like deserts and dunes to the sea and skyscrapers, in Dubai and from them, but we will also select the best photographic place for you.
A wedding event is so expensive and wedding photography is also very expensive, right? But don't worry zest photography provides you with affordable wedding photography. We are the best affordable photographers in Dubai.  
Snapshot from the tallest free-standing structure Burj Khalifa
 The 828 m (2,717 ft), the Burj Khalifa has been the tallest structure and building in the world. When you visit Dubai you must take some good shots from this tallest building. The scenic view of Dubai's urban jungle and that unfenced oasis is all you need to get a snapshot posted on social media and get heaps of likes and comments. The portrait captured from the top of the Burj Khalifa will be stunning you could get the featured sky too in your photo. 
You can have a flawless daylight photo or a twinkling night sky photo. The bright light would add colours to the sky and trees enhancing the scene in your portrait. At night a warm glow with all that glittering light was standing tall in Burj Khalifa. This surely will double the magic of your photoshoot. The palace downtown hotel is yet another elegant spot with ponds lined with palms and an elegant courtyard right at the entry.

Happiness Blooms in Dubai Miracle Garden 
The Dubai Miracle Garden is a garden full of flowers. You will love to document some beautiful pictures from here. It is the world's largest natural flower garden and the world's largest vertical garden launched on Valentine's Day in 2013. So this is the best place for couple portrait photography. The garden has flower structures of Minnie Mouse, Goofy, Pluto, Daisy Duck, Donald Duck,  Huey, Dewey, and Louie, so you can take beautiful photos of your kids too. Your kids will feel like they are in the dreamland, Disney. The photos from this beautiful garden will be a good tangible memory for you forever. Fashion photoshoots can also be done here.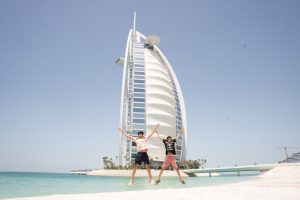 Burj Al Arab is a five-star hotel in Dubai. It is  Dubai's most iconic hotel and a global icon of Arabian luxury. The shape of the structure resembles the sail of a ship. Documenting your portrait from this tallest hotel Burj Al Arab will be a great thing for you and we will give you the best outputs.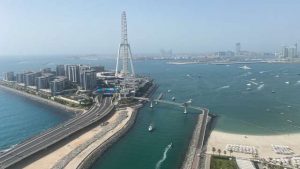 Dubai Marina is a famous location for skyline photography. We'll click the best skyline images for you during the golden hour which is the short period after sunrise or before sunset when the sky looks orange. This makes a picturesque backdrop that makes the sky blaze with colours and the buildings stand out. These photographs you should never miss when you are in Dubai.
If you are looking for something special, you may contact us and we'll make your photo shoot a memorable experience for you.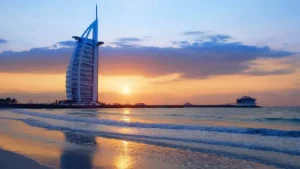 Jumeirah Beach is a nice white sand beach with a view of Burj Al Arab and has a nice park next to it. You can click beautiful portraits from the beach as well as the park near it. Beach vibes are always beautiful likewise beach photographs are also beautiful. Jumeirah beach offers romantic experiences and is the best distinction for couples to click some lovely couple portraits.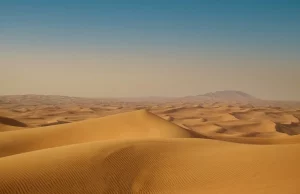 Deserts are the perfect location for family portraits. Most photographic destinations are always crowded with people but deserts are not like that. So deserts are the perfect place to shoot photos of families who feel shy in front of others. There are desert safaris in the Dubai Desert and you can enjoy them. Our professional videography team will take you the video of your desert safari and it will always be a good memory for you.
Photos from the dunes will always be special for you.

The palm-shaped Palm Jumeirah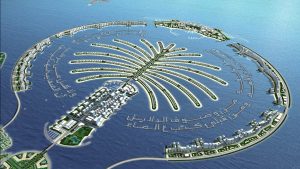 A cityscape photo will be more superb when it is taken from the great Palm Jumeirah. This island is known for glitzy resorts, posh flat buildings and upmarket multinational cafes.
The eight wonders of the world, a man-made paradise and an icon on Dubai's map are some phrases used to describe the largest man-made real estate Estate project Palm Jumeirah. So you will feel so proud of clicking pictures from this beautiful man-made surprise. 

Gorgeous Dubai City Walk
Dubai City Walk is a place in Dubai. This is a kind of smaller town in the middle of the big city and a perfect place to visit with your family and friends to enjoy the restaurants, shops and cafes there. This is a perfect picture spot. Best food photographs can be done here. You get more than you expect.  

Al Seef – Where old Dubai Meets the New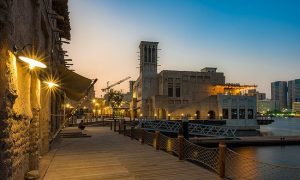 Al Seef Dubai is a bustling waterfront promenade with rich heritage and contemporary areas for shopping, dining and entertainment. This recreates what Dubai was like before it became a big city of skyscrapers. This is the best place to visit and the great place to click some beautiful portraits. The traditional architecture with a rustic look is perfect to get you pictures with a vintage look. The nights, as well as the days in Al Seef, are beautiful.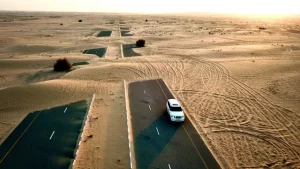 There is a half-desert road in  Dubai. This stretch of road was yielded due to the powerful forces of nature and is almost always covered by sandy dunes blown in from the surrounding desert. 
While you can't take this road as a path to your destinations, you and the family can go there for a bit of desert-themed enjoyment. Sandboarding, dune-bashing, and of course, clicking Instagrammable portraits are some of the cool things you can do there.

 Artistic Intervention The Dubai Mall.   Waterfalls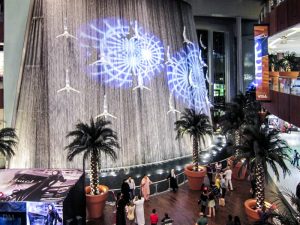 Do you want to get the best shots? Dubai Mall Waterfall is the best place for that. The Waterfall is 24-meter tall and it is decorated with fibreglass sculptures of divers. This creative landmark in the mall depicts one of the oldest UAE traditions, and it's a remarkable masterwork to admire. It's one of the most photographed landmarks in Dubai Mall.

Al Fahidi Fort (Dubai Museum)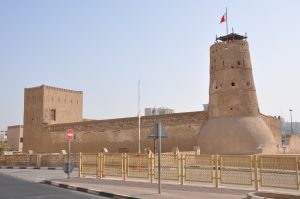 Al Fahidi Fort was built in the 18th century and originally consisted of coral and shells. It is one of the oldest spots in Dubai. This displays such artefacts as daily things, jewellery, marine antiques, and ancient weapons. Think of clicking some beautiful pictures from here that sound really good right?